Students! Did you do your profile survey? Check your email for a chance to win a £20 voucher and tell us what you think now!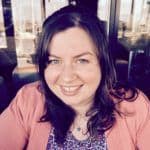 First of all, a huge thanks you to all of you who voted me your winner of the Enquiry Zone – I'm so pleased! I had a fantastic time talking to you all about science and my project and I hope you all enjoyed it as much as me!
A big thank you must go to the other scientists in the zone – Sakshi, Luke, Martin and Dan. You all had excellent projects ideas too and it must have been a difficult decision for the students! Thanks for manning the chats with me and answering such a variety of questions!
Thanks to the moderators– you have all been stars! All the chats ran very smoothly and we were always told if there was a cancellation or if students were running late. Thanks guys!
The biggest thanks must go to the students. Thank you all so much for your fascinating questions, your enthusiasm for science and for making the chats so much fun. I don't think I've ever typed so fast! We had everything from 'what inspired us to become scientists'? to questions about lab-grown meat and radioactive chickens! It was so much fun talking to you all and I hope I've inspired some of you to think about a career in science!
I've had a wonderful time on I'm a Scientist and I feel very privileged to have won both zones I've taken part in. I'm especially looking forward to working with you on our anatomy project and I'm very excited to see what we come up with! Thanks again to everyone for a fantastic experience!
Scientists! If you'd like the chance to win funding for your own public engagement work, apply for the next I'm a Scientist, Get me out of here: imascientist.org.uk/scientist-apply