Profile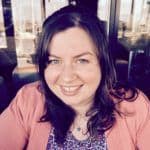 Jennifer Paxton
Great questions everyone - happy to answer any more you have about my project, anatomy or tissue engineering!
Curriculum Vitae
Current Job

Lecturer in Anatomy and Tissue Engineering Scientist at the University of Edinburgh
What question are we trying to answer? (Aims):

Anatomy Adventurers – How much do you know about your own bodies?

The human body is an incredible machine. It can do so many things and is made up of so many different parts that all work together. But….. how much do YOU know about your own body?

I'd like to investigate how much you, your class, or even your whole school knows about your own bodies. How many people know where their heart is? Does your headteacher know where their spleen is? Do you know what your kidneys do? Or how many bones you have in your skeleton?

So…..how much to do you know about your own bodies? LET'S FIND OUT!

What data might we need to collect? (Method):

To answer this question we will need to carry out some investigations into how much people know about their own body (or to give it it's scientific name – their own anatomy!)

For example…. Say you want to find out how many people in your school know where their heart is. You could ask everyone in your school and work out how many people get it right and how many get it wrong….. and so then can work out what percentage of people overall know where their heart is. How many of the teachers got it right? What about the younger classes in the school? You can split the data you collect into lots of different categories!

How might we collect this data? (Method):

We could use questionnaires/surveys to collect the data or use pictures like the one below to ask questions – here's an easy example to give you an idea.

This kind of information collection could be done in many ways…. on paper, on computers/tablets, or even interactive voting systems. You can decide the best way to collect your data. What about a giant 'Pin the Tail on the Donkey' but instead use a body? 'Can you Pin the Heart on the Body?'. There are lots of exciting activities you could develop to collect your data. We can make it as fun as you like! 😀

Of course, you – the investigators – will need to do some research into what the correct answers are to begin with and so you will learn lots of interesting facts about your own bodies during the process. I will be here to help you with all of this so don't worry about not knowing everything straight away and there are lots of excellent tools and resources we could use to help us too.

Why you should choose my project:

I think the anatomy of human body is a wonderful, exciting subject and I'd love to help you all learn more about your own bodies. It is also very useful to find out what children (and adults too!) know about the body so that I, and other anatomy teachers, can plan interesting and fun ways to teach the public about their own bodies.

But why is this important?

'Everybody has a Body!'

The more you know about your own bodies and how they work the easier it will be to make better choices to help you keep healthy and happy throughout your lives! What better reason is there than that? 🙂

My Interview

How would you describe yourself in 3 words?

Friendly, inquisitive, determined

What or who inspired you to follow your career?

I had lots of very inspirational lecturers when I was at University who made learning about science fun and exciting. Some of these were women and that really helped me to see that women can go far in science and have a successful and interesting career!

What was your favourite subject at school?

Physics and music

What did you want to be after you left school?

I had no idea!

Were you ever in trouble at school?

Nope, not that I remember!

If you weren't doing this job, what would you choose instead?

Hmmm….not sure. Maybe a musician or I've always fancied running a coffee shop!

Who is your favourite singer or band?

I love the Foo Fighters, Death Cab for Cutie and Band of Horses

What's your favourite food?

Chocolate or Nandos!

What is the most fun thing you've done?

I recently became a mummy for the first time and so spending time with my daughter is the most fun thing I do ;-)

If you had 3 wishes for yourself what would they be? - be honest!

To be happy, healthy and....more wishes? ;-)

Tell us a joke.

A horse walks into a bar and the barman says...... "why the long face?!"
---
---
---